Sale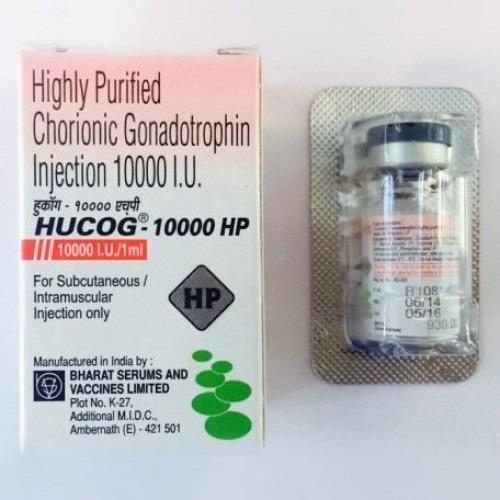 HUCOG-10000 HP Injection- Bharat Serums & Vaccines Ltd
 ( 100%  Genuine & Authenticate )
Form                –  Injection
Composition      –  Chorionic Gonadotrophin ( 10000IU )
Company Name   – Bharat Serums & Vaccines Ltd
NOTE –  WE SHIP ALL OVER THE WORLD
 We can also send this in plain packing as per your demand

Always buy original medicines/product from www.oms99.com
Description
Description of HUCOG-10000 HP Injection

HUCOG-10000 HP Injection is a hormone that helps the egg in a woman's ovary to develop normally.You should avoid using HUCOG-10000 HP Injection if you are allergic towards it, if you are pregnant, if you have early puberty or hormone-related cancer. Avoid the consumption of alcohol while taking this medicine. Before starting the medication, inform your doctor if you have any of the following conditions :
thyroid or adrenal gland disorder
an ovarian cyst
premature puberty
What is Chorionic Gonadotropin for:
This medication is prescribed for infertility problems in certain women who have not gone through menopause and for certain testicular development problems. It is a glycoprotein hormone produced in pregnancy. It prevents the disintegration of the corpus luteum of the ovary and thereby maintains progesterone production.
How does Chorionic Gonadotropin work:
Chorionic gonadotropin helps eggs to finish growing.
How should Chorionic Gonadotropin be used:
Your doctor may teach you how to give the shot. Wash your hands before and after use. Throw away needles in a needlesharp disposal box and take the box back to your doctor when it is full.
Common side effects of Chorionic Gonadotropin :
Irritation where the shot is given. Headache. Nervous and excitable. Feeling tired or weak. Enlarged breasts. Ovarian cyst. Upset stomach or throwing up. Many small meals, good mouth care, sucking hard, sugar-free candy, or chewing sugar-free gum may help.
What precautions should I take when taking Chorionic Gonadotropin :
If you have an allergy to chorionic gonadotropin (human) or any other part of this drug. Tell your doctor if you are allergic to any drugs. Make sure to tell about the allergy and what signs you had. This includes telling about rash; hives; itching; shortness of breath; wheezing; cough; swelling of face, lips, tongue, or throat; or any other signs. you have ovarian cysts or a cancer where hormones make it grow. A child is using and has started puberty. you are pregnant or may be pregnant.
NOTE : – We can also send this in plain packing as per your demand.
Delivery Area – All over the world.
Buy all the products of this company & more from www.oms99.com