Sale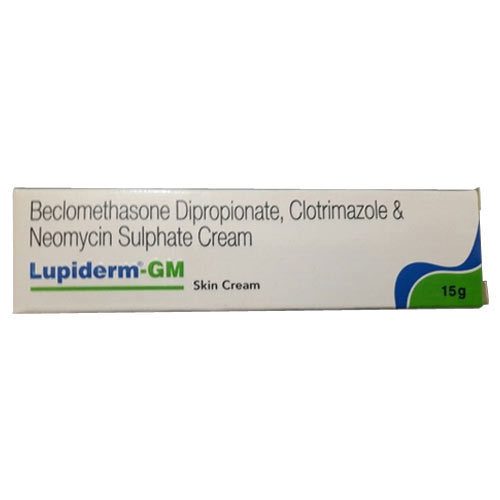 Lupiderm-GM- Skin Cream
Form                –  Cream
Composition      –  Betamethasone 0.05 %W/W+Miconazole 2 %W/W+Gentamicin 0.1 %W/W
Company Name  – Lupin Ltd
NOTE –  WE SHIP ALL OVER THE WORLD
 We can also send this in plain packing as per your demand

Always buy original medicines/product from www.oms99.com
Description
Description of Lupiderm-GM
Lupiderm-GM  Plus Ointment is a combination of three medicines: Beclometasone Topical, Clotrimazole TOPICAL and Neomycin Topical. Beclometasone Topical is a steroid medicine. It blocks the production of certain chemical messengers (prostaglandins) that make the skin red, swollen and itchy after an allergy or infection.
Lupiderm Gm Cream Uses
Skin problems
Tinea corporis
Vaginal yeast infection
Folliculitis
How does Lupiderm-GM ( Betamethasone )work:
Betamethasone replaces a chemical made in the body. lowers or stops the bodys reaction to the allergen. It stops or lowers irritation and swelling.  lower  the bodys harmful response to diseases of the immune system. In pregnant women, it helps make the babys lungs stronger.
How should   Lupiderm-GM ( Betamethasone ) be used:
Take Betamethasone exactly as directed by your doctor. Do not take more or less than instructed by your doctor. – If you are taking Betamethasone for a prolonged period of time, it is important that you do not stop it suddenly. – Your doctor will advise you about reducing the dosing gradually. – Take Betamethasone with food or after a meal. Try to take it at the same time each day.
Common side effects of Lupiderm-GM
Oral: High blood sugar. This most often goes back to normal when drug is stopped. Chance of getting an infection. Wash hands often. Stay away from people with infections, colds, or flu. Belly pain. Upset stomach or throwing up. Many small meals, good mouth care, sucking hard, sugar-free candy, or chewing sugar-free gum may help. Weight gain. Change in body fat. Weak bones with long-term use. Muscle weakness. Mood changes. Skin changes (pimples, stretch marks, slow healing, hair growth). Cataracts or glaucoma with long-term use. For women, vaginal yeast infection. Report itching or discharge. – Skin: – Skin irritation.
What precautions should I take when taking ( Lupiderm-GM ) Betamethasone :
Alert your doctor if you have any of these conditions: – heart, liver, kidney or thyroid disease. – diabetes. – gastric problems, especially ulcers or blockages. – myasthenia gravis. – epilepsy (seizures or fits). – fungal infection, chicken pox or herpes infection. – depression or other mood. -disorders. – recent heart attack.
When do I need to seek medical help
If you think there was an overdose, call your local poison control center or ER right away. Signs of a very bad reaction to the drug. These include wheezing; chest tightness; fever; itching; bad cough; blue or gray skin color; seizures; or swelling of face, lips, tongue, or throat. Signs of infection. These include a fever of 100.5°F (38°C) or higher, chills, very bad sore throat, ear or sinus pain, cough, more sputum or change in color of sputum, pain with passing urine, mouth sores, wound that will not heal, or anal itching or pain.
NOTE : – We can also send this in plain packing as per your demand.
Delivery Area – All over the world.
If you have any query regarding this product or order placement, feel free to contact us at 9266211 299 or whatsapp or mail
Buy all the products of this company & more from www.oms99.com