Sale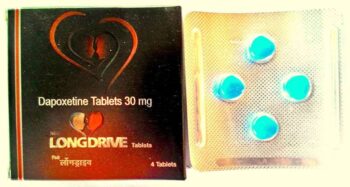 Long drive 30mg tablet
FORM                – 1 strip – ( 4 tablets each)
COMPOSITION     –  Dapoxetine 30mg
COMPANY NAME – Leeford Healthcare 

NOTE  –  WE SHIP All Over The World
NOTE  – We can also send this in plain packing as per your demand
Always buy original medicines/product from www.onlinemedicalstore99.com ; www.oms99.com
Description
Long drive 30mg tablet work : –
Long drive 30mg tablet is used to treat premature ejaculation in adult men aged 18 to 64 years. This may reduce the frustration or worry related to early ejaculation.
Long Drive  30mg contains dapoxetine 60mg as an active ingredient.
Benefits of Long drive 30mg tablet : – 
It  is used for the 
treatment,
 control, prevention, & improvement of the following diseases, conditions and symptoms:
Penis erection
High blood pressure
Penile erection
Side effect of Long drive 30mg tablet :-

Indigestion
Nasal congestion
Dizzines
Facial redness
Nasal stuffiness
Dizziness
Stuffy nose
Headache
Visual disorders
Feeling of warmth
Our suggestion :
-Take this tablet on an empty stomach for best results.
-Do not take this tablet more than 1 in a day.
-Avoid alcohol when taking this medicine as it may cause health related problems to you.
When to take–

It's best to take this tablet about 1 hour before the sexual activity with at least one glass of water, however we suggest you to take this medicine only as per your physician's advice.
NOTE : – We can also send this in plain packing as per your demand.
Delivery Area – All over the world.
If you have any query regarding this product or order placement, feel free to contact us at 9266211 299 or whatsapp or mail
Buy all the products of this company & more from www.oms99.com