Sale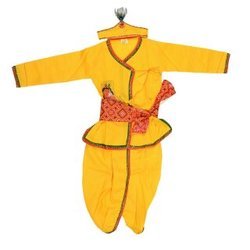 Krishan ji Costume / Dress
Krishan ji Costume / Dress
Size              – Small / Medium / Large
Colour           –  Yellow Red
Fabric           – Cotton
Description
Description of Krishan ji Costume
Janmashtami is the festival that celebrates the birth of Krishna. On the day of this festival, it is an age old custom to dress up little boys in Krishna costumes. Baby Krishna is a colorful character with some very typical signs. Lord Krishna is a God who loves to dress up and as he was a prince, he ought to have a crown. So give your little prince a beautiful Krishna costume, crown, flute, peacock feather, waist belt and wrist bands get him ready into a cute little one baby krishna.
Another Janmashtami tradition in many households is to dress the youngest male member of the family as Lord Krishna, which as you can imagine, is an adorable sight!
Key Features of Krishan ji Costume
Costume with frills at the waist
Fabric is skin friendly for the child
Good quality satin of the bottom
It includes fancy crown, flute, peacock feather, and wrist bands
Items Included in the Package Yellow Krishna Costume
 Crown
Flute (Available in different colors, the one available will be shipped to you)
Peacock feather
Wrist band
Waist Belt
NOTE : – We can also send this in plain packing as per your demand.
Delivery Area – All over the world.
If you have any query regarding this product or order placement, feel free to contact us at 9266211 299 or whatsapp or mail
Buy all the products of this company & more from www.oms99.com