Sale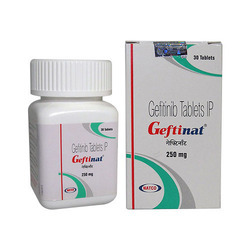 Geftinat 250mg Tablet
Form                –  1 Bottle ( 30 tablets )
Composition      – Gefitinib 250mg
Company Name  –  Natco Pharma Ltd
NOTE –  WE SHIP ALL OVER THE WORLD
 We can also send this in plain packing as per your demand

Always buy original medicines/product from www.oms99.com
Description
Description of Geftinat 250mg Tablet
Geftinat 250 mg Tablet is an anti-cancer medication. It works by blocking the action of the abnormal protein that signals cancer cells to multiply. This helps to stop or slow the spread of cancer cells.
In Depth Information
Do not take antacids (to reduce the acid level of your stomach) 2 hours before or 1 hour after taking gefitinib.
Take the tablet at about the same time each day.
Do not give gefitinib to children.
Do not take gefitinib, if you are allergic to gefitinib or similar medicines or to any of the other ingredients.
Avoid using gefitinib, if you are pregnant or are breast-feeding.
Avoid becoming pregnant during treatment with gefitinib because it could harm your baby.
If you are taking a medicine containing warfarin as an active substance, your doctor may need to do blood tests more often.
You may feel weak while taking this medicine, be careful while driving or using tools or machines.
How to use Geftinat 250mg Tablet
Take this medicine in the dose and duration as advised by your doctor. Swallow it as a whole. Do not chew, crush or break it.
Uses of Geftinat Tablet
Geftinat 250 mg Tablet is used in the treatment of non-small cell lung cancer. It is used in patients in which it has spread to other parts of the body, who have abnormal epidermal growth factor receptor  genes, and who have not had previous treatment for cancer.
Geftinat Tablet side effects
Common
Side Effects of Geftinat are Nausea, Rash, Vomiting, Weakness, Loss of appetite, Dry skin, Diarrhoea, Stomatitis
Medicine Information 
What is Gefitinib for:
This medication is a Cytotoxic Chemotherapy agent, prescribed for non-small cell lung cancer.
How does Gefitinib work:
It blocks the action of a certain substance that may be needed for cancer cell multiplication.
Common side effects of Gefitinib :
Diarrhea, rash, pimples, dry skin, nausea, vomiting, itching, loss of appetite, weakness and weight loss.
What do I do if I miss a dose
Take a missed dose as soon as you think about it. If it is close to the time for your next dose, skip the missed dose and go back to your normal time. Do not take 2 doses at the same time or extra doses
NOTE : – We can also send this in plain packing as per your demand.
Delivery Area – All over the world.
If you have any query regarding this product or order placement, feel free to contact us at 9266211 299 or whatsapp or mail
Buy all the products of this company & more from www.oms99.com